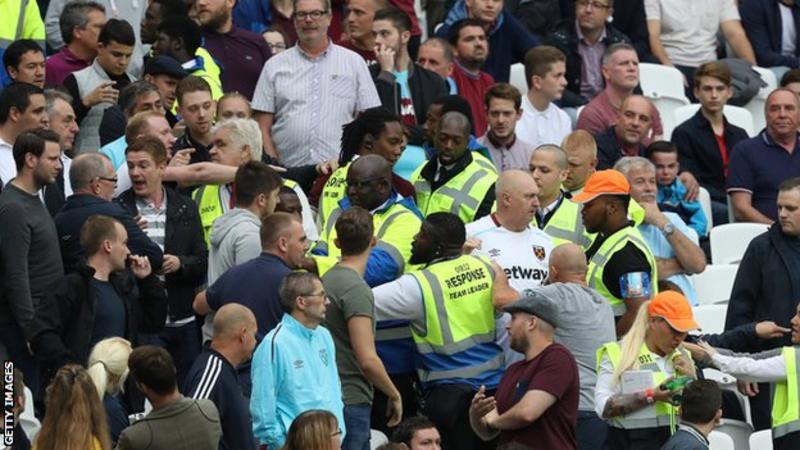 Much has already been made about the trouble which took place inside the London Stadium at the West Ham versus Watford game yesterday. However, to those of us who attended the game, as I did as one of the visiting support, it was hardly a surprise. For it is fairly clear that whilst this is an amazing venue, it simply does not yet work as a football stadium.
Leaving aside the fact that the lower tier is so shallow that it almost demands you stand to see anything (totally illegally of course) the segregation is almost laughable with the two sets of fans being barely a decent right-hander apart. 
However, there is a more fundamental problem and it one which will have to be addressed sooner rather than later. It is the thorny issue of stewarding. Not just inside the stadium, but outside.
At the risk of causing offence to anyone -and if I do, I apologise, but someone is going to have to say this- putting a dayglo vest on someone with only rudimentary English language skills does not make for an effective steward. More worryingly, if they have no experience of English football let alone dealing with aggressive fans, it makes them a liability because it can cause more problems than it solves. Just as importantly, it can place them in direct danger. More so when there are no police around to back them up.
As visiting fans, we saw the consequences of this inside the stadium yesterday but the truth is, they were exacerbated by some of the things which went on outside before the game. Indeed, the close proximity of the Westfield shopping centre, coupled with the lack of places to drink beforehand, is a recipe for disaster. More so when you have security staff walking around sticking camera's in peoples faces as they did to us yesterday. Understandable if we were being a problem but not when you're sitting outside a bar quietly drinking a coke.
That might be a small thing to some but the overt way it was done coupled with the arrogant attitude of those doing the filming pissed off an awful lot of people and this wasn't the only incident of its type we heard about. The worry being that if the London Stadium witnesses these types of problems when a club such as Watford are visiting, what is it going to be like when clubs such as Chelsea or Spurs are the visitors? The consequences were it to kick off inside the mall don't even bare thinking about.
I am not for one second trying to defend those who cause trouble because ultimately, they are to blame for what they get up to. Nor am I pointing a finger at West Ham fans, the majority of whom are amongst the best and most passionate in the country. However, the responsibility for the safety of all supporters in and around a home stadium is entirely a matter for the owners and it is one which, in the case of The London Stadium, is being failed. Badly.
Given what is at stake, that is totally unacceptable and one must hope that the results of the investigation announced by the FA today will leave the club management in absolutely no doubt as to what is required of them.
Just in case you didn't already know, all of my books and DVD's are available from both Amazon and iTunes.
Further information can be found at dougiebrimson.com
<script>
(function(i,s,o,g,r,a,m){i['GoogleAnalyticsObject']=r;i[r]=i[r]||function(){
(i[r].q=i[r].q||[]).push(arguments)},i[r].l=1*new Date();a=s.createElement(o),
m=s.getElementsByTagName(o)[0];a.async=1;a.src=g;m.parentNode.insertBefore(a,m)
})(window,document,'script','https://www.google-analytics.com/analytics.js','ga');
ga('create', 'UA-84003462-1', 'auto');
ga('send', 'pageview');
</script>