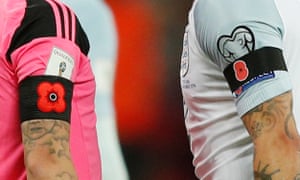 So it appears, as threatened, that FIFA are going to investigate both the FA and the SFA for a variety of incidents relating to the displaying of a political symbol during their World Cup qualifier on 11th November. Or Armistice Day as some of us refer to it.
The symbol they refer to is, of course, the poppy and whilst a large portion of the British sporting public are rightly up in arms about this affront to the war dead, it might shock you to read that I hold the opposite opinion. Yes, that's right, this particular veteran actually welcomes this investigation, and for a variety of reasons.
The first is that it will show English and Scottish football fans just how strong the backbones the staff at our respective FA's actually possess. For given the public reaction, not to mention our inbred dislike and distrust of both FIFA and UEFA, even the acceptance of a token fine would be seen as an admission of guilt and given the significance of both the poppy and the date to the British people, that would be totally unacceptable. Hence, they dare not back down.
Second, it will show once and for all exactly how FIFA regard the English game and the people who follow it. Indeed, given the nature of the allegations, one has to wonder why the Welsh FA aren't also being investigated given that they put on a show of remembrance in Cardiff the following day.

So angry are fans at this affront that many are already calling for the home nations to step away from the existing governing bodies and whilst I can't ever see that happening, if FIFA fail to show any flexibility with regard to this matter, the damage to our relationship could be immense.
Finally, and most importantly, it will establish once and for all that the poppy is NOT nor ever has been a political symbol. For the stark reality is that if FIFA decide it is, and the FA accept that decision, it will set a legal precedent which would open the floodgates to all kinds of groups who attack the very idea of remembrance. 
That simply cannot be allowed to happen which is why we have to have this investigation and why we have to come out of it with the dignity of the dead intact.
Just in case you didn't already know, all of my books and DVD's are available from both Amazon and iTunes.
Further information at dougiebrimson.com
screenwriting, author, ebooks, kindle, green street, writing
<script>
(function(i,s,o,g,r,a,m){i['GoogleAnalyticsObject']=r;i[r]=i[r]||function(){
(i[r].q=i[r].q||[]).push(arguments)},i[r].l=1*new Date();a=s.createElement(o),
m=s.getElementsByTagName(o)[0];a.async=1;a.src=g;m.parentNode.insertBefore(a,m)
})(window,document,'script','https://www.google-analytics.com/analytics.js','ga'); ga('create', 'UA-84003462-1', 'auto');
ga('send', 'pageview');
</script>